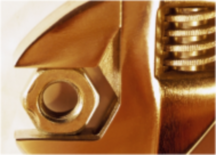 The job search can be a maddening experience for many reasons, but one of the biggest reasons is the organizational burden it imposes.  Consider all of the jobs you will eventually apply to.  Whether they are sourced from your professional network, the web, or the newspaper you are going to have to have to keep track of exactly which job you applied to.  Then we have the research that applies to each and every employer.  That needs to be collected, catalogued, and readily available should they decide to interview you.  Which resume did you send them?  And all of those cover letters that you crafted with pain staking detail.  Keeping those at the ready is just as important as managing your resumes.  With all of the paper work it can be extremely taxing for even very organized people to keep track of.  If it is tough for organized people to manage it all, what are normal people supposed to do?
Employ a tool when job searching. You can google "job search software" or go to download.com and type in "job search" to evaluate packages as there are lots of them out there.  We suggest keeping the following key points in mind when weighing the value of different packages.
MS Word. A first rate tool will be seamlessly integrated with MS Word or employ a word processor that will create MS Word documents.  In addition to making you look more professional, many employers prefer resumes in MS Word format.  You should make this a consideration a priority when looking for a tool.
Manage Resumes. As you pursue different opportunities, there will invariably be some shade of gray of the job requirements that you will need to include in your resume.  The likelihood of finding a job that mirrors your experience exactly will be few and far between.  A professional caliber tool will be able to manage all of the different resumes you have created to qualify yourself for different positions.  A tool that will keep a history of each resume as it changes over time will be an added plus.
Employ Templates. We firmly believe cover letters should be tailored to each and every job.  However, do you really want to type your salutation, address and closing paragraph every time?  The repetitive nature of the job search can sap job seekers of their motivation and you should consider a tool that will allow you to side step any work that smacks of repetition.
Jobs. Whether you find the job on the web or through your professional network you will need to capture every detail you possibly can – permanently.  If the employer gets enough resumes and they pull the job posting off of monster.com will you be able to remember the details of the listing?  Consider a tool that can capture listings and save them permanently.
Details. If you are serious about your job search, you will want to have a copy of every email you send anybody during the course of your job search.  This should include notes of every conversation you have as well.  You should be able to catalog all of your research on each employer and have it at the ready as well.
Automatic. This final consideration, we cannot emphasize enough.  Employ a tool that automates the job search as much as possible.  In other words, if you have to log every job search activity you do, aren't you just working with a glorified spreadsheet?  Isn't that what you were doing before?  If you send an email and you have to make a note of it aren't you just adding to your burden?  If you change your resume and have to make a note of it aren't you encumbering yourself unnecessarily?  We emphasize this, because most people are not prepared for the considerable amount of effort they are going to have to put forth to find the job that is going to bring them the happiness they are looking for.  Repetitive, mind numbing work is what so many people dread when looking for a job.  Employ a tool that can do it for you.  Unless you can nullify much of the administrative burden, you are going to be belaboring yourself unnecessarily.  To summarize,
When you find a job you want to pursue, there should be no cutting and pasting.  You should be able to save it automatically.
When you create a new resume from an existing resume, it should be added to your arsenal of resumes automatically.  When you change a resume, you should be able to continue your job search without having to record any changes you made to that resume.  Yet you should still have all of the details of the prior versions in case a prior recipient wants to review it with you.
When you want to edit your resume, it should open up in MS Word or a word processor of that caliber automatically and keep a record of the changes so you don't have to.
Every time you send an email it should be logged automatically.  This will allow you to focus on your job search.
You should have a bird's eye view of your status of every one of your job applications – based not on your ability to log events – but based on what you have accomplished in  your job search.
Above all else, you should not have to log a single thing, because to do so would be to tax yourself even more.  No doubt this is a tall order to fill, but these tools are out there and they can be had for less than $50.  Our favorite is JobTabs Job Search & Resume.  JobTabs fulfils all of these requirements and then some.  Alternatively, you can google "job search software" or go to download.com to search for options.   Liberate yourself from the administrative conundrum of the job search.  You will be able to apply to jobs more easily, gain more confidence, and ultimately get better job offers.
John Coffey is the President of JobTabs, LLC.  Through JobTabs Job Search & Resume, thousands of job seekers have taken control of their destiny in finding new and fulfilling careers.  JobTabs Job Search & Resume motivates job seekers by making the job search easier by a huge order of magnitude.  John Coffey can be reached via his website at JobTabs Job Search & Resume, by email via jpcoffey at jobtabs.com, as well as by phone at 404-255-0248.