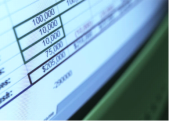 Alison Doyle's blog is one of my favorite destinations on the web. Alison always has great advice and her articles are concise and to the point. Recently, I read guest author Traci Pederson's article on tracking your job search via a spreadsheet and it took me back to when I tracked my job search via a spreadsheet. The article is dead on as to what you should track and why you should track it, however I couldn't help but feel exhausted after all of that administrative shuffling. I know how taxing it is because it was the impetus that lead me to write a computer program to do it all for me.
Let's have a look at how Traci keeps track of her job search and let's see how JobTabs Job Search & Resume can help you do the same thing.
I have found that one of the most useful things I started doing was to keep track of everything I am doing. I use a simple spreadsheet, like Excel. And I do mean everything. I have one file where I enter all the information from any job sites that I join. Information such as the username and password I created, what type of job site is it ­ freelance or regular or specialty. The date that I joined and whether I posted a resume to the site or filled out their own skill assessment list goes in the file too. After about the fourth or fifth one joined anyone can be forgetful.
The great thing about JobTabs is it allows you to keep track of everything.  And I do mean everything. 

  The JobTabs Search Agents not only keep track of which site you search on, but also all of the search terms you use when you return to the site each time. In many cases, you don't even have to have a login, because if you have access to the Advanced Search page you can create repeatable searches without having to create an user account at all.  This can be a big time saver as well as add a little stealth to your job search.
In another file I keep track of jobs that I have actually applied for. Write down the date you sent it in, whether you mailed it or emailed or applied directly to the employer's site. Don't forget to add in all the contact information such as a web site address, the email used to send your application, any phone numbers, addresses or person's names that were given. This is very important for follow-up inquiries. Something that can separate your resume from the rest of the batch is to put a little work into it, read their web site and mention why you would be a great fit for their company or call them to get the hiring managers name to personalize your cover letter.
Great advice, but ugh! All of this tracking, writing, mailed versus emailed, can be an exhausting undertaking. Why not have it all, yet do none of it? Every time you apply for a job with JobTabs, it will do all of the tracking and logging and detail writing for you. For example, if you apply to a job by sending your resume by email, you just open the email form, attach your resume and send it.  You're done!  JobTabs will automatically pickup on this and log the company, your contact, the exact resume you sent, the date, exactly which job you found on the internet or otherwise and whether you applied on line or by email or by post automatically! Even if you edit the resume fifty times, JobTabs will still avail you of  the exact resume you sent to the employer.  Our goal was to allow you to focus on getting a job while we did all of the administrative work behind the scenes!
Another page to add to your job search folder is one for classes you have taken. I'm mostly referring to the online tutorials that you can find. This is a great way to beef up your resume and get some experience and skill in a particular area that seems to be a "hot" topic for the industry you are targeting in your search. I like to record the web address, any username/passwords that I created and what the tutorial was about for easy reference.
One thing we knew when we rolled out JobTabs to the public is that we had to give them powerful tools to pursue jobs in a systematic way. We also had to allow people to have enough elbow room to do their job search their way. While we do not have a folder per se for classes you have taken, JobTabs has a free form Resources tab that allows you to keep information in any number of formats. You can keep notes and you can also attach any number of documents in any number of formats to include in doc, docx, ppt, xls, , xml, pdf, rtf, html or practically any format you can come up with.
A silly thing I overlooked was the use of various keywords on the job search engines. I was using like "telecommute' and that was it. So of course it was hard to find hits. Branching out with other phrases will find you more opportunities such as "home-based", "off-site", "virtual office", "freelance" and "work-at-home".
Again, here is where the JobTabs Job Search Agents come into play. Should the search agents ever fail you, you will always have access to to your searches via the built-in RSS/Atom feed reader. This can serve as a veritable library of great job searching tips.
Keeping multiple copies of your resume is a time saver as well. We all have various strengths and emphasizing certain areas which target a particular company's job listing will improve your chances by focusing their attention on what benefits you can bring to their company. And just don't send a generic cover letter with a bland statement, I'll mention again to at least read some of their company information to personalize it and show the hiring person that you spent some of your time researching them and that you mean business and aren't just throwing your resume out to the wind. You will save time in the long run if you keep your applications to jobs that you are actually qualified to do.
Traci, shows all of the signs of a prudent job seeker given the details she keeps track of. You absolutely need to have multiple copies of your resume and it is a huge time saver. Our position is that you should let a software program do all of the tracking so that you can focus on your job search. Enter JobTabs. JobTabs can keep track of a virtually infinite amount of resumes. Moreover, all of your resumes can be previewed with a single click. No searching in folders, network locations or even websites. All of your resumes are conveniently stored in a hierarchical tree so that you develop increasingly more refined resumes depending on the job you are applying to.
Your cover letters are as easily maintained. Enter in the contact information one time and the cover letter will show as if it had been tailor made for the job to which you are applying. It really is that easy. You can develop your cover letter template to be as brief or as detailed as you see fit.
JobTabs Job Search & Resumes is a tool that was initially designed for professional job seekers, i.e. IT Contractors, and you would be served well if you took some cues from the pros in your job search. Simply reading the help file will do much to enlighten any job seeker and we invite you to be our guest.
In closing, the article written by Traci Pederson is well written and we tip our hat to her for her demonstrated prowess in identifying the details that job seekers need to keep track of. We do not differ with her in her wisdom or the practical advice she has chosen to share with job seekers. We are only demonstrating how JobTabs can serve as a next generation alternative that warrants a closer review by anybody who chooses to stay on top of the details in their job search.
John Coffey is the President of JobTabs, LLC.  Through JobTabs Job Search & Resume Builder, thousands of job seekers have taken control of their destiny in finding new and fulfilling careers. JobTabs Job Search & Resume Builder motivates job seekers by making the job search easier by a huge order of magnitude.  John Coffey can be reached via his website at JobTabs Job Search & Resume Builder, by email via jpcoffey at jobtabs.com, and by phone at 404-255-0248.